One Child One Light: Solar LED Study Lighting programme for Children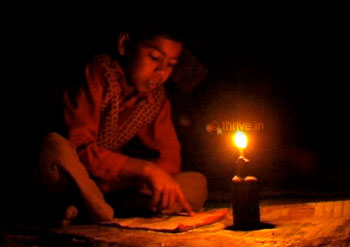 Daily, millions of children across the developing world struggle to study at night due to inappropriate lighting, or total non availability of light. They turn to using street lights, oil lamps, or kerosene lanterns which are both dangerous and polluting. One of the innovative solutions to address this problem is to provide them with highly efficient, solar chargeable, LED Study Lights which are much cleaner, brighter, and safer to use. Due to the fact that there were are nearly 12 Crore School Children in India and many more in developing nations who still have face lot of difficulty and hazards with the use of kerosene lights, and the fact that if this solution has to benefit such a large number of children en-mass, plenty of investment, funding, and social support is required.
In 2009, Dr. Ranga, Founder and President of THRIVE decided to launch a large scale social initiative with the support of likeminded and highly motivated individuals who would promote the concept and ensure wide-spread awareness and gather as much support as possible to make this happen – and this gave birth to the idea of OneChildOneLight (OCOL).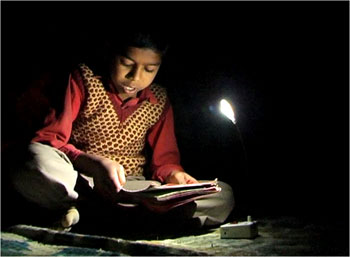 The mission of the programme would be to support every underprivileged child's right to education by giving a safe, clean and low cost study light. The Solar LED Study Lights were designed and developed by Dr. Ranga after years of dilligent study of usage patterns of lighting systems in remote and off-grid rural areas. The OneChildOneLight (OCOL) Solar LED Study Lights help children study in a bright and pollution free environment, away from dangers due to burn accidents, and the drudgery of using dirty and polluting kerosene lamps resulting in increased study hours during the night.
OCOL Study Lights are made using Light Emitting Diodes (LEDs), which are energy efficient semiconductor devices that emit light when electricity is applied. Just a 0.2 Watt LED can produce upto 150 Lumens of light in comparison to 2 Lumens emitted by a Kerosene Lantern or Oil-lamp. So far, nearly 450,000 School Children have so far benefited from the OCOL Programme, and are helping conserve nearly 2 Million Litres of Kerosene, and preventing 5000 Tonnes of CO2 emissions every month.
For more information on the programme, please visit: http://www.onechildonelight.org and show your support.